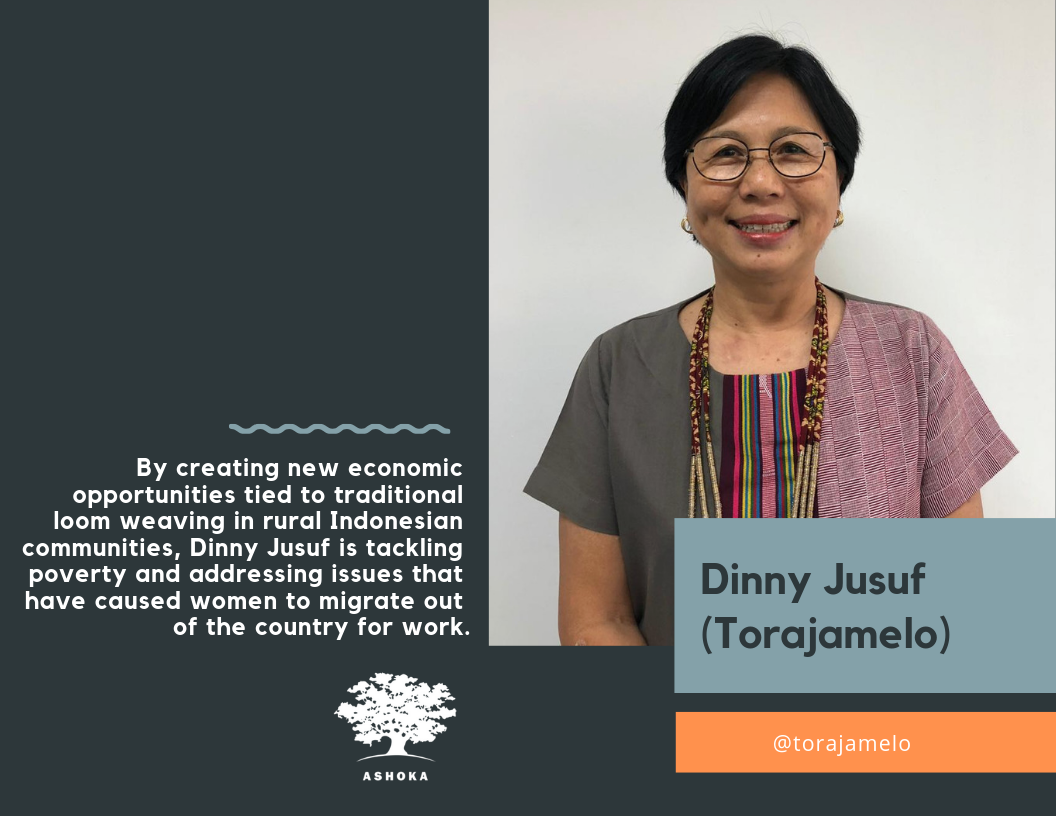 Letter From Founder
By : admin | February 28, 2019
Hello Toraja Melo friends and supporters! Let's look back to 2018 and look forward to an exciting 2019 together.
Toraja Melo strives to adhere to our belief, that to break the often-violent systemic migration of the poor rural women, we need to take collective action across all sectors, namely community organizing, design & production process, ethical marketing, conscious consumerism, etc. Toraja Melo strives to do this by using indigenous weaving as a tool. This way we can act as catalysts in the journey of excluded communities to gain economic freedom and help them regain their dignity.
COMMERCIAL
In February 2018, we welcomed Sofia Sari Dewi as our Marketing & Communication Manager. Sofia brings with her a millennial approach and an influencer's network, while marketing and selling our high-quality fashion, gift and homeware products. In Jakarta, the smart and helpful team from Empassion.com and Aparna, one of our Advisors have been working hard at building our Business Strategy.
COMMUNITY BASED TRAVEL
At the same time, I have been spending more time in Toraja to build our CBT in partnership with the community of LDW (Lembaga Desa Wisata/The Village Tourism Organization) in Suloara' and the community of weavers in Sa'dan. By the grace of the universe, we welcomed ten groups as our guests, which included culinary Master Chef William Wongso, Pelangi Benua (www.pelangibenua.com) and French Travel Agents under the program of The Indonesian Ministry of Tourism (https://youtu.be/VWRzBxI59n4).
As an integral part of our Sole Oha exhibition at the Jakarta Textile Museum in 2017, we took the exhibition back to the communities of weavers. Sole Oha Balik Lewo or pulang kampung or going back to the village was held in Mamasa in March and in in Adonara and Lembata in September. In collaboration with PEKKA (Perempuan Kepala Keluarga or The Association of Women Headed Households) we celebrated with hundreds of village people in each area. We had a "before & after Toraja Melo" fashion show and textile exhibition, photo exhibition, discussion with the local government and film night. In Lembata, together with PEKKA community, in the spirit of friendship we welcomed the team of MAMPU program (an Australian Government (DFAT) and Government of Indonesia (BAPPENAS) partnership working to improving the access of poor women to essential services). In Lembata, Toraja Melo also took the opportunity to welcome the first CBT guests to stay at the cottages built by the PEKKA mothers on a beautiful black sand beach as a part of Balik Lewo celebration. (https://www.youtube.com/watch?v=wHim-Ui_0FM). In 2018, we were able to host 10 groups under CBT which is not a bad start at all.
COLLABORATION
Actually there is a fourth "C". In our dream to erase poverty for rural women, we cannot work alone. We continue to collaborate with many parties. There are our old friends, like WIR/DMID group (wirglobal.com & https://www.dmidgroup.com/), who invited us to their first Disrupto event; DBS Foundation, who involves us in their Social Enterprise summit; and @JFlowrighthere who has been our partner in promoting our love to Indonesia for more than five years and who proudly wore @TorajaMelo jacket for the closing ceremony of Asian Games 2018 in Jakarta. There are also new friends, for example Maverick.co.id– a communication consultancy company who invited us to speak at Pecha Kucha Jakarta Volume 33; Sophie Paris, a fashion brand has offered their expertise in design ( https://www.sophieparis.com/); and William Wongso, an old friend but a new partner for our CBT program.
Oh, there is another good news. In December 2018, I have been elected as an Ashoka Fellow. I feel so honoured to be one amongst 3,500 of the world's leading social entrepreneurs in 90 plus countries, in a similar vision to build an "everyone a changemaker world."(Ashoka.org) (https://mailchi.mp/78d61ee20c3f/surat-kabar-fellow-edisi-desember-2018).So, against this back-drop we plan to grow our collaboration with our old and new partners to another level in 2019. Together, we hope we can scale up our business, so that in less than five years we will serve a community from the present 1,000 weavers to 5,000 weavers.

In restless bliss,
Dinny Jusuf
mother-wife-dreamer