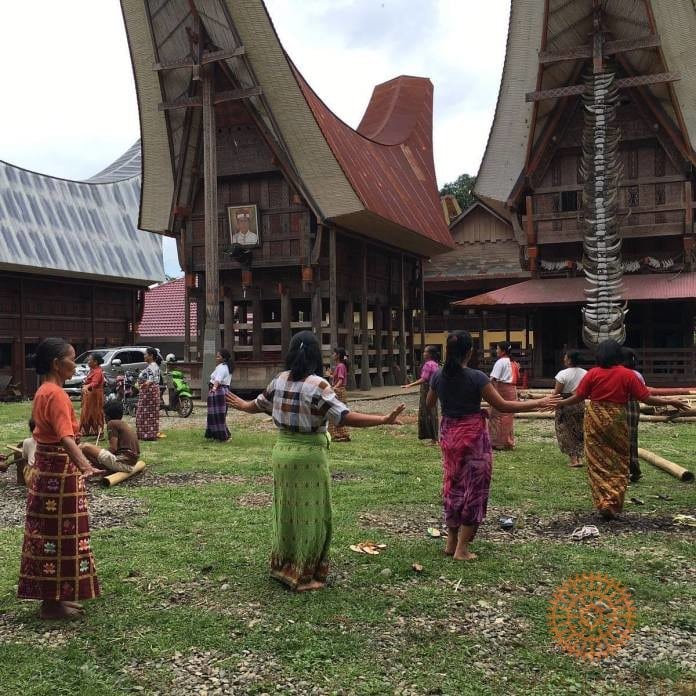 TORAJAMELO, How Torajan Handwoven Textile Could Pull Out Women and Society from Cycle of Poverty
By : admin | July 3, 2018
Every time the discussion about developing countries emerges, there's always a recurring theme of exploitation of indigenous people. Not only in developing countries, sometimes even in powerful and leading countries, these indigenous communities still suffer from a potential threat to their cultures and livelihoods.
Traveling to the rural areas of Sulawesi, one of Indonesia's archipelagos, we will be welcomed by centuries worth of tradition, preserved by thecommunity in Toraja.
Dinny Jusuf, was moved by the fact that the poverty rate in the population of 254 million people in Indonesia is an astounding 13.8%, with 70% among them are women (BPS, 2015).
She sees that across Indonesia, many women's only skill is back-strap weaving, but their creativity is limited by prices and low demands, and not to mention the culture appropriation by big fashion names that discredit the works of these artisans. It forces these women to find works in other countries, only to be abused by their employers, and some even came back with unwanted pregnancy. So she came up with TORAJAMELO.
TORAJAMELO (CBN – ID000009955), literally means Beautiful Toraja, was then set up to create a better life for the marginalized rural women weaver artisans in Indonesia and to rejuvenate the art and culture of Indonesian hand-woven cloth. She started the work in Toraja, South Sulawesi, Indonesia in 2008. What the company has done so far is preparing the weavers for the global market by conducting Community Organizing programs and Capacity Building (i.e. fashion trend, textile design, etc.) and giving access to micro-finance and social support (i.e.reading glasses donation, etc.). Not only that, the company also has a regeneration program to pass on weaving knowledge to the young people.
Through their products, TORAJAMELO creates fun & functional head-to-toe fashion lines and gift products of high quality, all made of Indonesian hand-woven textile from their indigenous geographical origin.
"By 2025, we aim to become the shopping destination of Indonesia, which sells high-quality fashion line and gift products, all made of Indonesian hand-woven textile from their geographical origin, in collaboration with at least 5,000 weavers across rural Indonesia and at least 100 urban poor women who produce the finished items," explains Dinny.
Basing the business on community, quality and compassion, TORAJAMELO seeks to make a real change by respecting artisans and value them with the fair market prices for the weavers' better lives. The company works as both foundation and a limited liability. With a total of 1,000 weavers based in Sulawesi and East Flores, TORAJAMELO now ventures their business to e-commerce and brick and mortar shop in expatriate area of South Jakarta.
Dinny's background as a former Secretary General of Komnas Perempuan (National Commission on Anti Violence Against Women) surely plays part in her continuous advocacy for indigenous women weavers. Now as the CEO, she works alongside Nina Jusuf as the Head of Design and Production with fashion design degree and her expertise in violence against women issues.
"We keep our team small, so we can be agile. We believe in mentoring the young generations. So, all of our seven staffs consist of women who share the dream to create a better life for rural women through weaving,"
In November 2016, TORAJAMELO was chosen by the Staff Office of the President of Republic of Indonesia as one of the home-grown brands to develop Nation Branding for the promotion of Trade, Investment and Tourism for Indonesia.
In May 2016, Dinny Jusuf received "The Marketeers Women Award 2016" by the MarkPlus Inc, a leading company in Southeast Asia on Marketing Strategy, and these awards are just a few of many other inspiring awards that this trailblazer company has won.